Become a Community

Supporter
Hope Hollow is excited to welcome companies, corporations, and organizations to join us in providing hospitality and hope to cancer patients as they receive medical treatment in Columbus, Ohio. We gladly accept support in monetary form, in-kind donations and/or sponsorships for fundraising events.
Hope Hollow, as of yet, has never turned down a request for a cancer patient who is in need. The continued growth of Hope Hollow reflects the growing needs for persons with cancer and their loved ones as they seek treatment and hopefully a cure for their cancer. Monies expended by Hope Hollow are prioritized for direct services…including lodging, meals, nutritional support, transportation assistance and emotional support for the cancer patients we serve.
As a community supporter of Hope Hollow, we will publicize your company, corporation or organization's support on our social media accounts and website.
Thank you for considering joining Hope Hollow in giving the gift of hope to cancer patients!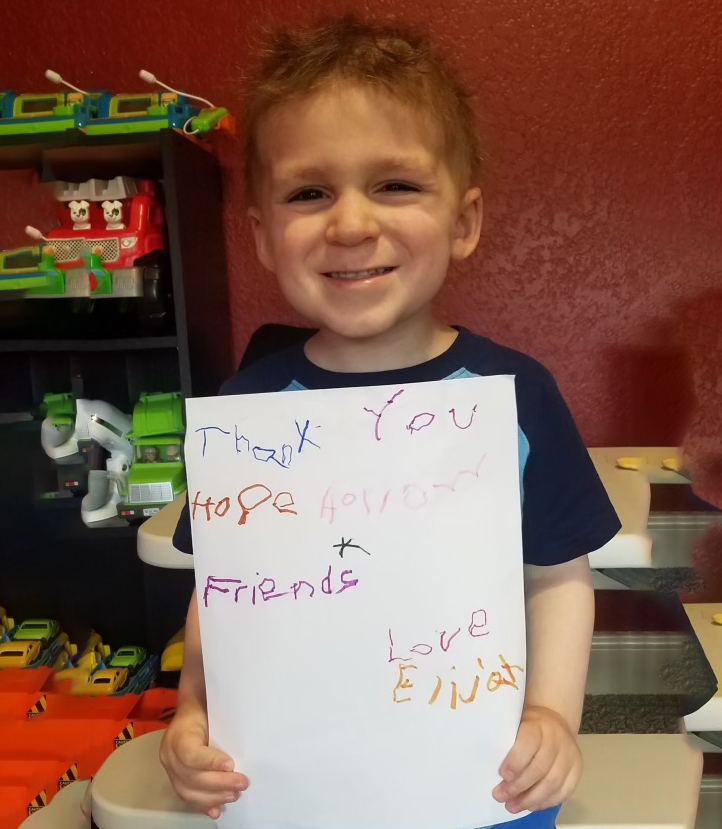 "Thank you Hope Hollow & Friends. Love, Elijah"
Elijah and his family traveled to Columbus from Houston, Texas, so that he could receive the best possible treatment for his brain cancer at Nationwide Children's Hospital. Hope Hollow donors make it possible for Elijah, and other cancer patients, to access life-saving treatment!
Hope Hollow "Lives This Disease with the Patients"
Listen to Community Supporter, Steve Scherer, Ohio State Bank, speak about why it is important for him to support Hope Hollow!
Hope Hollow

Testimonials
"Often, patients tell us, the support Hope Hollow provides is the reason they have been able to access life-saving or life-prolonging treatment at The James."
"As a former Community Resource Navigator for the American Cancer Society, I would like to express my gratitude and support of what you and Hope Hollow represent. I thank you both for supporting the cancer patients coming from out of town who are receiving their cancer treatments at local hospitals in Franklin County. You are both kind and compassionate individuals and those traits come through in your interactions with the patients that I have referred to you for assistance with lodging and other requests. The complimentary lodging and food to cancer patients in need that you have provided has greatly assisted in lessening the financial burden that many of these patients and their family members have. Your help and support have had an impact on every person you have touched with kindness and services."
"The American Cancer Society is ever grateful to Hope Hollow… Functioning collaboratively with Hope Hollow has been a blessing. Hope Hollow provides a localized approach and care for patients and families facing the most challenging and stressful times of their lives. The generous people behind Hope Hollow provide an additional touch of personal care and support for patients, family members and caregivers. They provide a sense of hope and comfort to those in need of a place to rest, as well as removing the worry of how to pay for a basic commodity… Shelter. On Behalf of the American Cancer Society and patients seeking the care they need to get better… "Thank You, Hope Hollow, for your mission and dedication! Columbus, Ohio is very fortunate to have this wonderful resource available in the community."